Nevada Mathematics Project
TEACHER REGISTRATION NOW OPEN: PLEASE CLICK ON CORRECT SITE TO FIND REGISTRATION FORM FOR YOUR LOCATION. THE SITES ARE ELKO, SILVER SPRINGS, LAS VEGAS AND RENO. NOTE:Registration is NOW Closed. The project is full. Please contact Teruni Lamberg at Terunil@unr.edu. If you would liked to be placed on a waiting list.
Nevada Mathematics Project is a collaborative statewide mathematics initiative to improve math and science instruction and student achievement in Nevada. We are  currently supporting over 140 teachers from the state of Nevada to improve math instruction and develop math and science leaders this year. We supported over 120 teachers last year and 106 the previous years. Over the past three years this project has directly impacting over approximately over 12,600 nevada students!.Over time, as teachers continue to implement these strategies and knowledge many more students will be impacted. These teachers represent every single school district in Nevada including several charter and private schools. Our long-term goal is to transform Nevada and learn from that process. This project is funded through the Nevada Department of Education with federal funds from the U.S Department of Education.
NEVADA MATHEMATICS PROJECT PHASE III (2016-2017)  – (Grant Proposal submitted- Good News-We will be receiving funding for Phase III.)
This phase of the Project will include a STEM integration component. The Mathematics Content Focus will be Measurement and Data Analysis for Grades K-5 and Geometry and Data Analysis for grades 6-8.
This content will be embedded in the Next Generation Science Standards: Science & Technology, Physical Science and Personal and Social Perspectives (NGSS) with a special focus on nanotechnology. We are delighted to have partnered up with Northwestern University, and RHK Technology a business partner. We will also be working with a team from the University of Wisconsin at Madison.
Project Meeting: Planning Session (Entire Project Staff) in Reno at University of Nevada, Reno 
William Raggio Building Room 2021 (College of Education), Parking Whalen Parking Garage
May 31,  Time 9-4
June 1,  8-2:30
The planning meeting was a great success. The dream team worked really hard to carefully design the the professional development sessions. Here are some photos.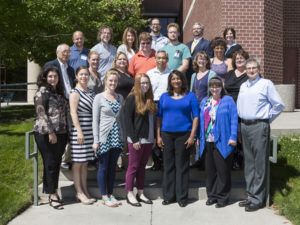 Photo by: Theresa Danna-Douglas
Front row: Denise Trakas, Marrissa McClish, Heather Crawford-Ferre, Rebecca Boncoddo, Teruni Lamberg, Melissa Jurkiewicz, Craig Wall
Second Row: Robert Chang, Rovene Coy, Lucy Gillette, Mathew Hsu, Linda Koyen, Kathy Lawrence
Third Row:  Steven Demelin, Mitchell Nathan, Kathy Dees, Ed Keppelman, Zachary Kirkwood, Claudia Bertolone-Smith
Fourth Row: Travis Olson, Mike Pacheco, Diana Moss
Not in Photo: Ana de Bettencourt-Dias, Peggy Lakey, James Middleton, Barbara Perez and Tina Baer, Dave Brancamp
PROJECT TEAM HARD AT WORK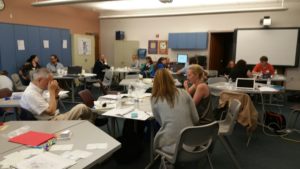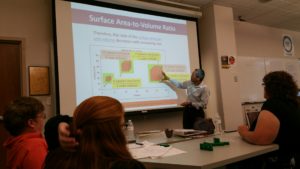 Summer Institute dates for Phase III
June 27-July 1 Reno Site
July 11-15      Elko
July 18-22      Silver Springs
July 25-29      Las Vegas
NEVADA MATHEMATICS PROJECT PHASE II (2015-2016)
Three Year Plan
| | | |
| --- | --- | --- |
| Long-Term plan /Timeline | Support Teachers to Implement Nevada Academic Content Standards (Goal: Increase teacher content and pedagogical content knowledge for teaching) | Follow up support to increase student learning(Goals: help teacher effectively teach the content to students to increase student learning.) |
| Year 1 (completed) | Number & Operations –Fractions Ratio and Proportional Relationships Operations & Algebraic Thinking Expressions & Equations & Functions | Teachers focus on teaching content by helping students learn math through Standards for Mathematical Practice as outlined in NVACS. The Whole Class Discussion Framework will be used to support teachers to implement the Standards for Mathematical Practices. |
| Year 2 (Completed) | Number and Operations in Base 10, Counting &  Cardinality: Focus Grades K-3  The Number System Functions: Focus Grade 6-8 | Refine teaching through a learning trajectories approach to support diverse learners. |
| Year 3  In-Process | Geometry, Measurement and Data, Statistics & Probability, Nanotechnology and NGSS standards physical science | Teachers develop leadership skills to support others while refining their teaching to support student learning. |
Content Focus
Provide Professional Development in the Nevada Academic Content Standards in Mathematics: (K-3 Content and Pedagogy Focus):  Counting and Cardinality, Number and Operations in  Base 10 Fractions. Grades 6-8 Content and Pedagogy Focus: The Number System & Functions.
Note: We will continue with the goals listed in phase I.
PHASE 1(2014 -2015)
Project Goals:
Provide Professional Development in the Nevada Academic Content Standards in Mathematics: Fractions/Ratio and Proportions and Algebraic Thinking/ Expressions and Equations for teachers in grades 3-8. Deepen Teachers' Content knowledge.
Help Nevada teachers refine pedagogical skills so that students learn mathematics through the Standards for Mathematical Practice.  (Implement Whole Class Discussion Framework  – Refine Process of teaching)
Improve Student Learning.
Develop teacher leaders in math that can support other teachers and their districts.
Facilitate Professional Development sessions in strategic locations to optimize regional access to professional development.
Capitalize on Nevada mathematics leadership expertise, knowledge and resources and work as a team to create a statewide partnership that forms a learning network.
This project is collaboration between University of Nevada, Reno, University of Las Vegas, Northeastern Nevada Regional Professional Development Program, Northwestern Regional Professional Development Program, Lyon County School district, Nevada Department of Education and the following School Districts: